Eat delicious Sushi, drink Bulgarian wine and have fun in Sofia.
My favorite sushi bar in Sofia is at Denkoglu street, it is on walking distance from NDK (National palace of Culture), TZUM (shopping center), St. Sofia church and 50 meters from Vitosha street which is walking area.

Rumi in Sushi Bar in Sofia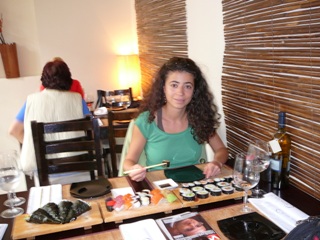 I prefer this sushi bar in Sofia because it is in the city center, it is very close to my apartment and the sushi is just excellent.
The sushi bar is not small, not big, I can say the space is enough and you can't feel pressure of people and tables around.
The first hall is a smoking area and the tables and chairs are high like you are sitting at the bar, maybe this is the reason this sushi restaurant to be called "Sushi Bar".
Me, during the winter, in Sushi Bar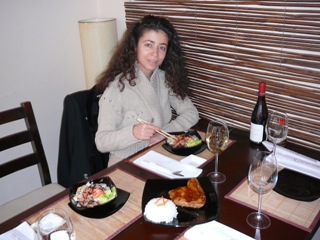 There is one more area, "non smoking", where people sit on normal height tables and chairs.
What I like at this sushi bar is the way they offer wine. For example in December there are 2 types of Beaujolais on every table.
How to resist the temptation? Of course you can't, and you order wine :-).
The menu is traditional – you can chose from 5-6 types of fish, there are several main dishes, like tuna steak which in this Sushi bar is very, very good!
Tuna steak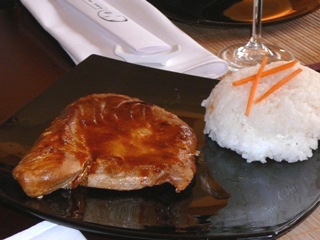 I don't like spicy food but on contrary I always overdo wasabi and the result is tears in the eyes and wet nose :-).
I have my way how to dissolve wasabi. First I put small amount of soy sauce, than add wasabi and stir until it become well dissolved. Than add more soy sauce.
The result is perfectly dissolved wasabi without small lumps.
Miso soup
By the way in this sushi bar in Sofia they offer only first quality soy sauce – Kikkoman. I tried many brands and this is my favorite.
Usually in sushi restaurants you have free salad or Miso soup with every menu, but in sushi restaurants in Sofia there are not such offerings.
What I like to order is the biggest Sushi menu – 32 pieces – it includes 1 or 2 pieces from all sushi and roll types. They claim this menu is for 2 people, but once I eat it the whole lol. Honestly it is very big and enough for two people. The price is a little bit over 30 leva.
Chirashi sushi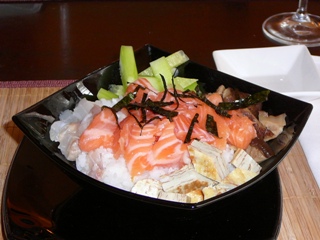 Lately in this sushi bar they offer Chirashi sushi – which they called spilled sushi, because the rice is not formed in rolls but just put in a bowl and there are fish, mushrooms and vegetables over it.
I like this Chirashi sushi very much and it is a little bit challenging to eat it with sticks, but it is fun and I like it.
Bill for two people is around 60 leva, if you drink wine than add 20-50 leva more.
Address: 18 Denkouglu str.
Phone for reservations: +359 2 981 84 42
Working hours: 11 a.m. – 11 p.m.